---
Party In My Pants: Reusable Panty Liners
Party In My Pants reusable panty liners are hand sewn with love in the Northwoods of Wisconsin by a small team of dedicated women. Each style and size of liner has been extensively tested by women across the globe for the last thirty years. Party In My Pants reusable liners have been used for everything from light spotting and urinary incontinence to daily wear for vaginal discharge and post-surgical care. So what makes our reusable cloth panty liners so unique and effective? Let's find out!


Party In My Pants Reusable Cloth Pads and Liners are FDA Certified!
Menstruators around the globe have been utilizing reusable cloth pads since humanity first started processing materials to become fabric.
As humanity has evolved, so have reusable pads, and Party In My Pants pads and liners are the final evolution of this great journey.

What are these things made of?
Party In My Pants reusable cloth panty liners were designed by our intrepid founder and leader Luci Daum nearly 30 years ago when she herself was struggling to find a comfortable and fun solution to disposable panty liners. Over years of use and wear, these cloth liners have slowly been perfected to become the optimized solution to light flow days, spotting, incontinence and so much more! Why worry about leaking through disposable liners or further polluting the earth with gallons of disposable panty liners when you could be enjoying the feeling of reusable and breathable cotton panty liners?
Did I mention they are an easy to use, eco-friendly alternative handmade by a small woman-owned and operated business residing right here in the USA?
Panty Liner | Layer 1
Each cloth panty liner is fabricated with three primary layers, each one integral to the longevity and effectiveness of the overall liner.
We start with a unique face fabric- this is the part you will see when you drop your panties to the floor! Each face fabric is meticulously chosen by the production team to bring a smile to your face. We look for a wide array of designs, styles, and prints to ensure that each individual can find something that will their frown upside down and make this the best part of their day. No more white, floral disposables- pick what's best for you! From plain colors to help track your flow to bold patterns to hide staining, we've got you covered. This includes offering organic cotton panty liner options, as well as our regular cotton panty liners. We know how sensitive skin can be and aim to ensure that each of us has access to the right options for our individual needs.
Each unique face fabric may either be 
breathable cotton or a soft and fuzzy flannel
. Our organic cotton panty liners also come with the option of cotton or flannel. Our customers often wonder which of these is the best and the simple answer is they both are! A silky soft breathable cotton can be the perfect answer to slide into your underwear on sweaty summer days. There the moisture wicking cotton helps to keep you feeling fresh and with a little extra protection all day long! Nice fuzzy flannel is also an excellent choice! Also made out of cotton, the unique manufacturing style that creates flannel gives the surface a slight boost in catching that light flow or light incontinence. It also offers the wearer a feeling of extra warmth come those cold winter months! In the end, however, the real major difference is your individual preference. To each their own!
Panty Liner | Layer 2
The second layer takes us inside the cloth panty liner and into what we fondly call, "the guts". Inside the guts of a liner is actually pretty simple, one highly effective layer of absorbent birds-eye cotton. In the case of an organic cotton panty liner, that birds-eye cotton would be organic as well so that your most sensitive skin is safely cradled in the highest quality of breathable cotton. This one interior layer, in concert with the face fabric on top, is capable of handling light days, spotting, and daily discharge, making them ideal for daily use!
Panty Liner | Layer 3
The third and final layer of a reusable cotton panty liner is the leak proof backing. Each liner is backed with our secret ingredient: a waterproof nylon taslan that has been extraneously tested over decades to stop leaks before they begin. This waterproof backing is what allows us to protect your underwear and prevents stains and sets us apart from different brands. This is also the layer that disposable products which will eventually leak with a heavier flow or bladder leaks. If you are looking for the premium in period care and feminine hygiene, look no further than Party In My Pants!
Patented Snap Closure
The final component to each and every Party In My Pants reusable cloth pad or liner is the nickel-free metal alloy snap closure. These heavy duty snap closures provide security throughout your menstrual cycle, distinguishing us from other reusable pads which often feature fragile plastic snaps that chip and break with wear. Customize your liner with our additional snap option, which makes your pad or liner narrower, or snag a
wing extender
with your next order to get some additional length!
How do I wash My PiMP liner?
The easiest, most effective method to clean your Party In My Pants pads and liners is a good ol' machine wash, just like any other piece of laundry! Just pop 'em in the washing machine (warm or cold) and toss 'em in the dryer on low. Some people prefer to soak their cloth pads before washing, but with Party In My Pants that is generally not necessary. However, if you have an older washing machine, you might find it doesn't clean pads as thoroughly, and you may opt to soak them very briefly in cold water (5 minutes max!) to loosen any dried fluids before machine washing. If your washing machine has a pre-wash setting, you can also use that instead of soaking. Hand washing is also an option with our liners. Simply dab a little soap on top, soak through with some warm water and scrub away!
For some extra protection against stains, you can spritz some hydrogen peroxide onto your pad before throwing it in the wash!
This ability to wash and reuse time and time again is what makes our liners the peak in eco-friendly options. Rather than throwing plastic packaged tampons in the trash can or worrying about all the waste that is going into the environment from disposable liners that are one and done, take a chance to experience the ease and comfort of reusable panty liners.
So, what's with the sizes?
Party In My Pants reusable panty liners come in a variety of sizes to allow a customizable collection for a variety of humans and their flows! Whether that be a day of bicycling with some light spotting, a day spent at a desk with a light flow, or maybe a pairing with a favorite menstrual cup, we've got you covered!  Our liner sizes range from our Thong Liners, optimized with additional snaps for those delightful garments, to our full coverage Luxe Liners and their broad surface area for optimal coverage! For more active lifestyles, we recommend our Skipper Liners, which have a unique arrowhead shape to keep to help the liner stay secure in place through the hustle and bustle of a busy day!
Pairing with a tampon or menstrual cup? No Problem!
Our reusable liners thin, yet absorbent build means that you have all the extra coverage you could dream of in case of any accidents! This makes them ideal for pairing with a tampon or menstrual cup for however you feel most comfortable handling your menstrual cycle.
Looking for Something More Absorbent?
If you are looking for a more absorbent style of protection we recommend taking a look into our reusable pads! Party In My Pants reusable cloth pads have been curated to absorb more than disposable pads and can withstand a heavy flow and the most brutal menstrual cycle.

What about the cost?

Disposable liners can cost between $5,000 and $10,000 over the course of an individual's lifetime. Reusable liners can cost between $700 and $2,000 over the course of a lifetime. While disposables may seem the less expensive option per unit, that unit is still just one and done. Each of our reusable liners that you purchase can be worn for 5+ years or 65+ washes, and when that liner does finally begin to wear away it still doesn't end up in a landfill! Each reusable cloth liner can be cut apart, the nickel snap closure cut out and recycled, the top two layers composted, and the bottom waterproof nylon layer repurposed to patch tents, raincoats, etc. If you thought the cost savings for you were good, just think how grateful mother nature must feel!
Eco-Friendly
If you are still on the fence about reusable cloth liners, then please consider this one last monumental fact. One menstruating person creates approximately five and a half pounds of waste per year using disposable period products, creating 187 POUNDS of unnecessary menstrual product waste over a lifetime. Reusable menstrual pads and liners do not end their lifespans dumping synthetic material into landfills; instead, they reduce waste and lead to a happy and healthier planet... and you! Make the eco-friendly switch, and chose reusable liners and pads!
Fun Fact!
Out on the town with no place to store your used liner? Never fear!
Our reusable cloth liners can be conveniently folded into little squares, dirty side in, to keep your used liners safely sealed and contained until you get home and throw them in the wash!  We also have a selection of Laminated Totes, perfect for transporting pads and liners on the go!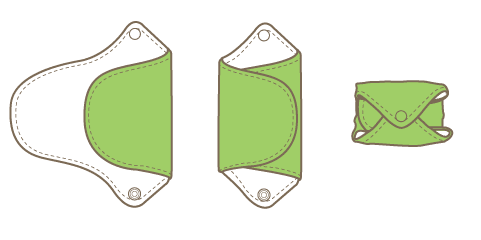 The way a pad or liner looks in the bottom of your underwear doesn't necessarily affect how it feels or performs when worn.
We believe that everyone deserves to try their first liner free! Simply use code CLOTHCURIOUS at checkout and enjoy!